The Federation Internationale de Savate and its continental confederations hold regular championships in three main disciplines: Savate Assaut, Savate Combat and Canne de Combat. The qualifying tournament of the 2016 European Championships in Savate Combat took place recently in Greece. Many thanks to the organizer, Christos Kakos, the Hellenic federation and their team of volunteers, who gave us a warm welcome in a beautiful place. There are many advantages to a tournament being held close to the sea!
The weigh-in took place on Thursday and the fighting began on Friday morning. The combats were supervised by an experienced team officials, who assured clear guidance of the participants and management of the event. Thank you to all of them! All the national delegations were presented at the Opening Ceremony, with each delegation accompanied into the arena by volunteers in traditional Greek costumes.
On Saturday evening, the junior finals and three of the senior women's finals took place in an atmosphere of excitement, adrenaline and excellence.  The other finals will take place in October in France.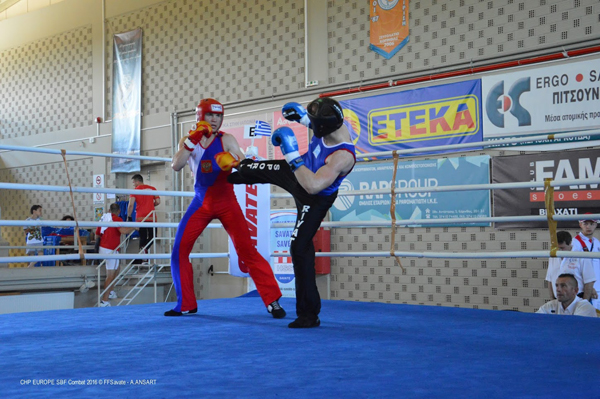 Congratulations to all the athletes!
M-56
Champion : PLACE Lorenzo FRANCE
Vice-champion : CAPUTI Léonardo ITALY
JM-60
Champion : SHCHERBACHENKO Sergei, RUSSIA
Vice-champion : MARIMOUTU Eddy, FRANCE
JM-65
Champion : FAUJOUR Julien, FRANCE
Vice-champion : SHVANEV Ilya, RUSSIA
JM-70
Champion : DIARRA Stanislas, FRANCE
Vice-champion : OSIPOV Dmitrii, RUSSIA
JM-75
Champion : ANDREZE Kévin, FRANCE
Vice-champion : IARANTCEV Nikolai, RUSSIA


JM-80
Champion : KURGANSKII Igor, RUSSIA
Vice-champion : SERODES Arthur, FRANCE
JM-85
Champion : POCHET Alexis, FRANCE
Vice-champion : DOZORETHS Stanislas, UKRAINE
JM+85
Champion : EDZOEV Tamerlan, RUSSIA
Vice-champion : GEORGOPOYLOS Nikolaos, GREECE
F-52
Champion : BOUYJOU Margot, FRANCE
Vice-champion : ANANEVA Svetlana, RUSSIA
F-65
Champion : SURREL Sara, FRANCE
Vice-champion : BUBNJARIC Stefica, CROATIA


F-75
Champion : ZAREBA Beauty, FRANCE
Vice-champion : VUKOVIC Tijana, SERBIA
Photos : Angélique Ansart