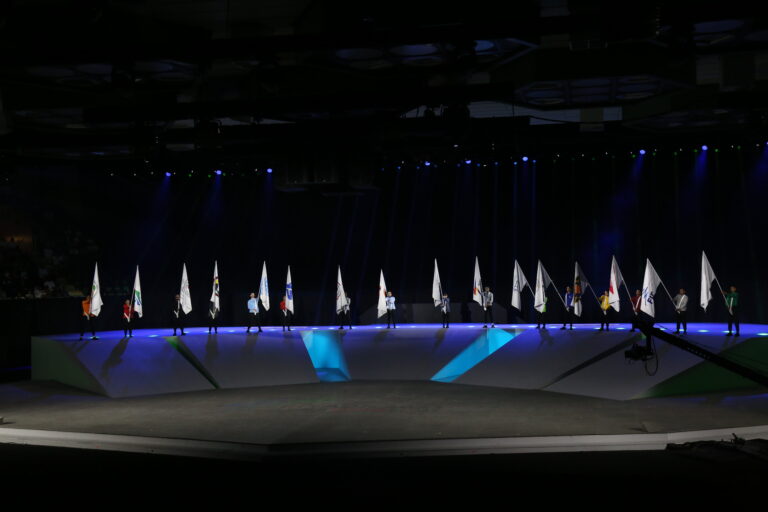 The elements of Earth, Wind, Fire, and Water took centre stage as the main concept of the opening show.
The opening ceremony witnessed the presence of distinguished guests from all corners of the globe, including Ivo Ferriani, the President of SportAccord, HRH Prince Abdulaziz bin Turki Al Faisal Al Saud, President of the Olympic and Paralympic Committee, and the Sport Minister. The IOC delegation comprised of the IOC Vice President and various IOC members. Representatives from over 60 National Olympic Committees actively participated in the event. Moreover, the ceremony was graced by the presence of many Royal Dignitaries such as HSH Prince Albert II, Sheikh Khalid, President of the Bahraini NOC, and many more notable figures such including various Heads of State and Diplomatic missions. Certainly, executive representatives of SportAccord and the 16 participating International Federations from the 3 umbrella groups of ASOIF, ARISF and AIMS.
For the first time in the history of the Games, inclusivity is at the forefront, with athletes participating in not just the Olympic events, but also in the Para and Special Olympic disciplines. The spotlight now shines brightly on athletes from all corners of the globe, of All Abilities.
With the event set to be telecast in over 200 countries, it promises to be a grand stage for showcasing the 16 recognised combat sports to the world.
Over the next ten days, more than 2000 athletes representing 16 combat sports will dominate the stage. It's crucial to acknowledge the Kingdom of Saudi Arabia's significant role in this event. The Vision 2030 initiative, under the guidance of HRH Prince Abdulaziz bin Turki Al Faisal Al-Saud, emphasizes inclusivity, forming a vital element of this sporting spectacle.
AIMS President, Chairman of the world combat games, and Vice President of SportAccord Stephan Fox stated:
"These games promote inclusion non-discrimination and equality which is much need in the challenging times we find ourselves in today. Martial arts brings together a 1000 years of respect and respect is the key to everything. I would like to extend my personal gratitude to HRH Prince Abdulaziz bin Turki Al Faisal Al-Saud for granting this incredible opportunity to the combat athletes of the world and those of All Abilities".