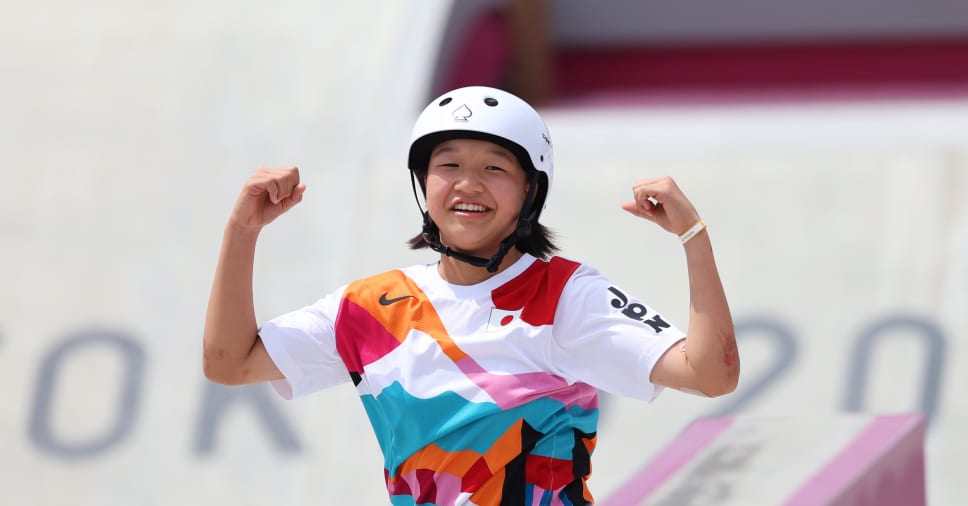 Japanese skateboarder NISHIYA Momiji is just 13 years old – and has won gold at Tokyo 2020. We take a look at some of the other young prodigies competing at the Games.
What, exactly, were you up to at the age of 13?
Probably not competing at the Olympics – or for that matter – winning gold, which is what 13-year-old Japanese skateboarder NISHIYA Momiji did on Monday (26 July) in the women's street event, as the sport made its Olympic debut at Tokyo 2020.
From NISHIYA to 12-year-old Syrian table tennis player Hend Zaza, who at age 12 is the youngest athlete at the Olympic Games this year, we take a look at some of the other young stars to watch out for during the Olympics.
Sky Brown, 13 – Team GB – Skateboarding
With new sports in the Olympic programme comes an infusion of youthful energy, too. Sky Brown is one of them in skateboarding, the Briton having just recently turned 13 (12 July).
Brown has won medals on the international stage, and is the youngest Team GB Summer Olympian of all-time. Brown has a shot to land on the podium in the women's park discipline in skateboarding, which takes place on 4 Aug.
Brown is joined by other skateboarding youngsters including the aforementioned NISHIYA, HIRAKI Kokona of Japan (12) and Brazil's Rayssa Leal (13). Germany's Lilly Stoephasius recently turned 14.
Leal captured silver behind NISHIYA in the street skateboarding event.
And – not to be outdone – the 2019 world champion in park, Okamoto Misugu of Japan, is just 15 years old and will compete with Brown in the park discipline.
Hend Zaza, 12 – Syria – Table tennis
While NISHIYA won gold, it's Zaza who walks away with the title of "youngest," the Syrian having lost her opening match in table tennis on Saturday (24 July).
Zaza is the youngest table tennis player at the Olympics ever – and the youngest Olympian in any sport since 1992. On her day of competition she was exactly 12 years and 204 days old.
Quan Hongchan, 14 – China – Diving
Quan Hongchan is just 14 years old and will compete in the women's 10m platform diving (4 Aug). Joining her in that event is 15-year-old teammate Chen Yuxi, who is also competing in the 10m springboard event.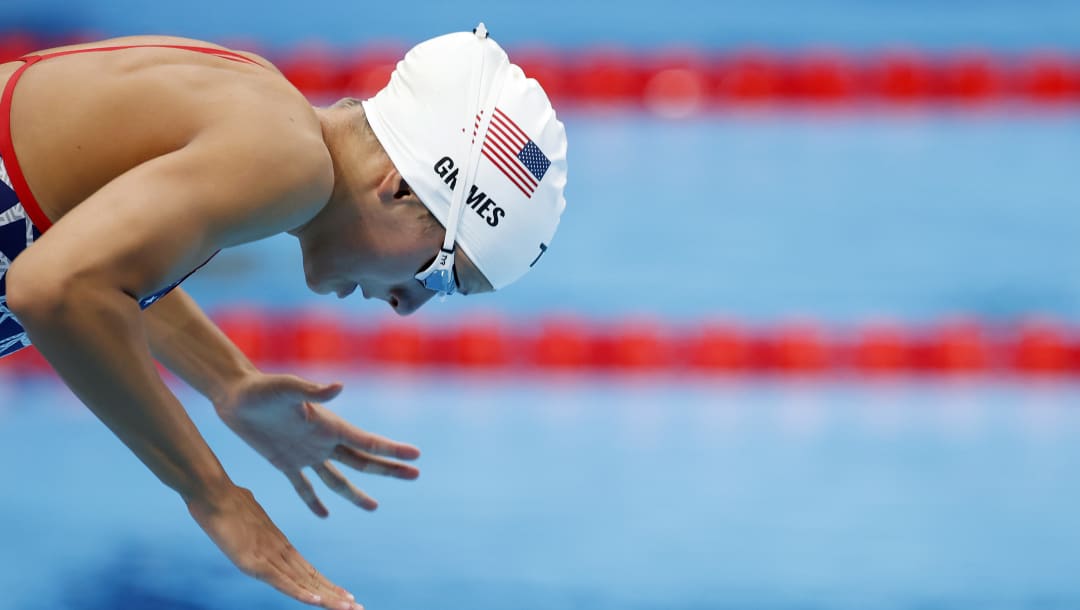 TOKYO, JAPAN – JULY 22: Katie Grimes of Team United States during aquatics training at the Tokyo Aquatics Centre ahead of the Tokyo 2020 Olympic Games on July 22, 2021 in Tokyo, Japan. (Photo by Al Bello/Getty Images) 2021 Getty Images
Katie Grimes, 15 – U.S. – Swimming
The youngest member of Team USA, Katie Grimes is a swimmer competing in the 800m freestyle – the same event that her now-teammate Katie Ledecky qualified for London 2012 in at… you guessed it, age 15.
Grimes is the youngest U.S. Olympic swimmer since Amanda Beard who made the Atlanta 1996 team at age 14.
"It really is full circle," Ledecky said when the duo qualified at U.S. swim trials last month.
Other youngsters on Team USA: Sixteen-year-old Clair Curzan and Lydia Jacoby, 17, in swimming and 17-year-old Colin Duffy in the new event of sport climbing.
Erriyon Knighton, 17 – U.S. – Athletics
Another young American to watch is athletics sprinter Erriyon Knighton, who will race the 200m for Team USA after qualifying in third at Trials last month.
Knighton is the youngest American man to make the U.S. athletics team for an Olympics since Jim Ryun in 1964.