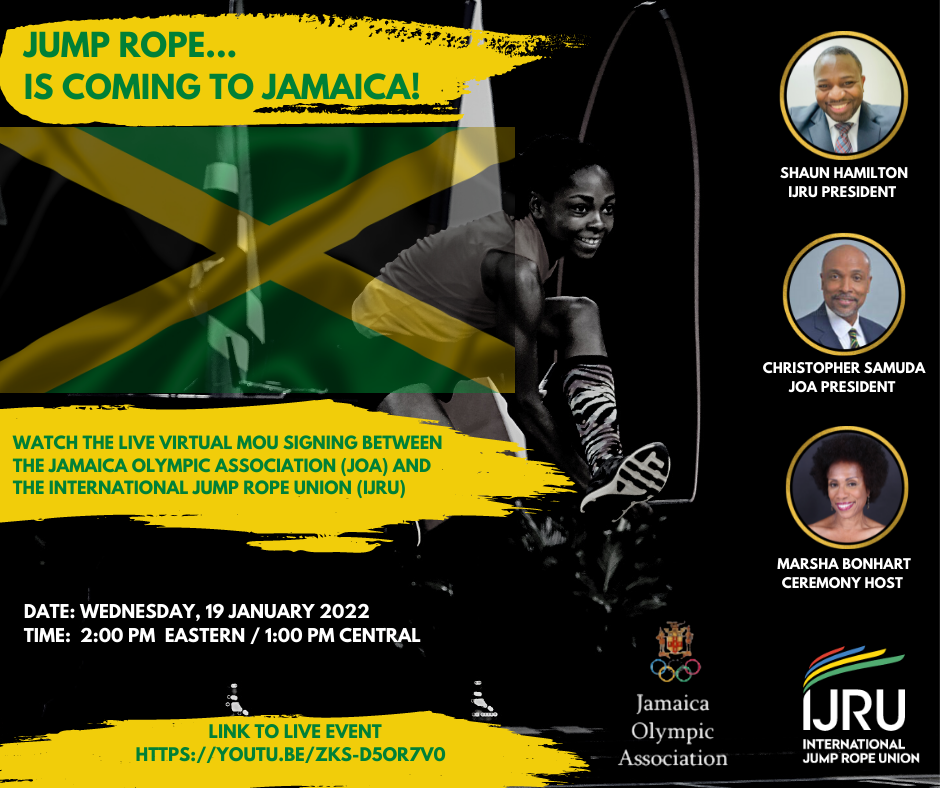 Dayton Ohio, 18 January 2022 – The International Jump Rope Union (IJRU) and the Jamaican Olympic Association (JOA) will sign a Memorandum of Understanding (MOU) in a virtual ceremony on Wednesday, January 19, 2pm Eastern. This MOU will officially bring the sport of jump rope to the island nation of Jamaica through its highest sporting authority with the intent to encourage greater access to sport and physical activity in Jamaica. IJRU President, Shaun Hamilton, will be signing at the University of Dayton in the historical James "Rocky" Whalen Sports Library located at the Tom Frericks Center. Mr. Hamilton will be joined virtually by Mr. Christopher Samuda, JOA President, and Ryan Foster, JOA Secretary General at the Jamaican Olympic Headquarters in Kingston, Jamaica. This ceremony will be hosted by veteran award winning journalist, Marsha Bonhart.
Mr. Hamilton, long time Miami Valley resident, has led multiple international jump rope organizations for 14 years, and has been active in the sport for 32 years as a U.S. and world champion athlete, coach, official, executive, and now as president of the global governing body of jump rope. As president he is tasked with leading global growth and development efforts and aligning with the Olympic movement.
Mr. Shaun Hamilton (IJRU President) quote – "This historic MOU with the JOA will serve as a catalyst in the Caribbean region for greater access to sports and physical activity. Jump rope can serve as an outlet and sporting opportunity for individuals who may not fit into traditional athletics. We are excited to partner the JOA and aid them in bringing jump rope to Jamaica."
Mr. Christopher Samuda (JOA President) quote – "The sport is a natural for Jamaicans with our athleticism, dexterity, and indomitable spirit all of which will make Jamaica's berth in this sport an experience of excellence and milestone for the Jamaica Olympic Association.
Mr. Ryan Foster (JOA Secretary General/ CEO) – "Speed, energy, skill and resilience are very much a part of the DNA of the Jamaican athlete for whom the Jamaica Olympic Association, in promoting this sport, is creating opportunities and history without losing a beat."
View the virtual MOU ceremony here https://youtu.be/Zks-D5oR7v0