The IOC President, Dr Thomas Bach opened the SportAccord IF Forum 2015 with a record number of international sports federations in attendance. This year's conference programme is focused on governance and sport and has been developed in close cooperation with the International Olympic Committee and the SportAccord Convention stakeholders. The event was by invitation only for international sport federations from SportAccord, ASOIF, AIOWF, ARISF and AIMS.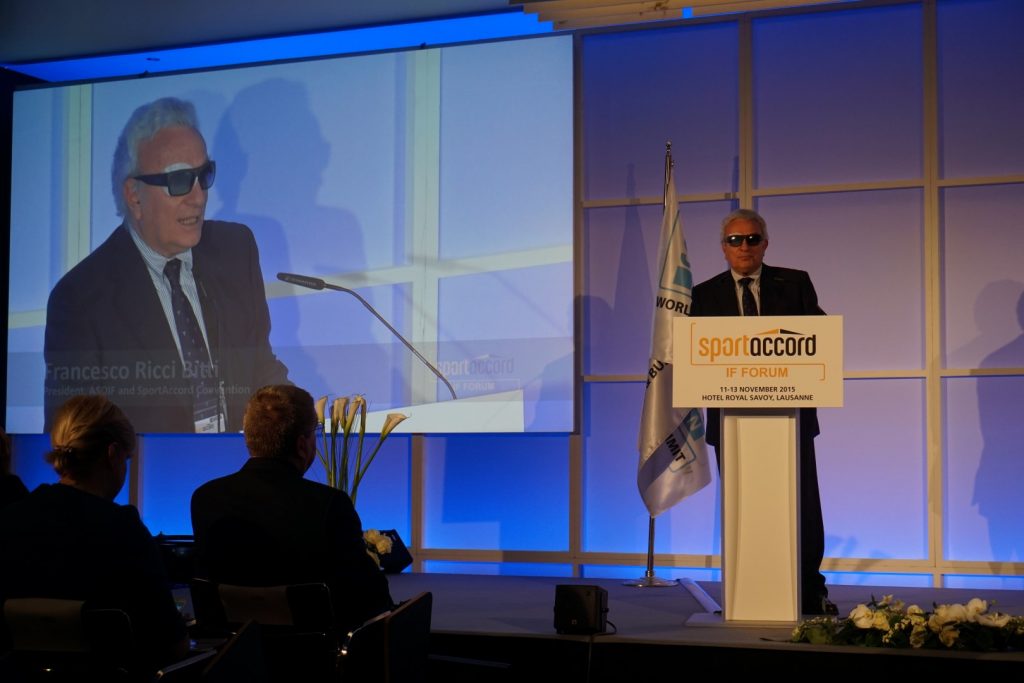 Dr Bach gave a warm welcome speech to all the recognised international sporting federations and associate members outlining the importance of good governance in sport, with Francesco Ricci Bitti issuing the following statement. "Today, the International Sport Federations welcome and accept the IOC's invitation to work together to not only establish indicators and assessment mechanisms, but to promote their use within their respective sports. The objective of this undertaking is to ensure that the state of governance within sports institutions can be readily assessed publicly and monitored on an ongoing basis. This will be done in an inclusive manner, taking into account best practices and using the most appropriate available tools so as to not only establish the right processes, but to promote and ensure a 'Culture of Good Governance' within all Sport Federations."
AIMS was in full representation at the IF forum with all 23 recognised sporting federations in attendance.
AIMS president Stephan Fox again outlined the importance of the SportAccord Convention and the importance of continuing the close cooperation with the IOC towards the service of sport and positive change. This year's topic could not be more appropriate as good governance and integrity and sustainability is the foundation that all sport, regardless of being Olympic or non Olympic recognised, stands on. The impressive capacity and knowledge of the speakers and the undoubtedly practical solutions will benefit the overall development of sport on all levels.