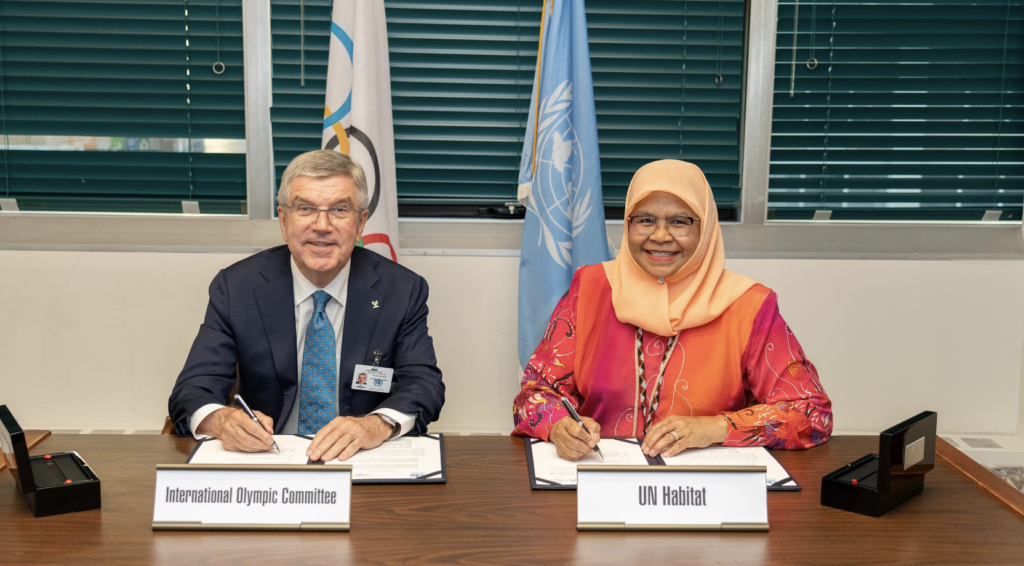 The International Olympic Committee (IOC) and UN-Habitat have announced a new collaboration to promote physical activity in urban environments, underscoring the importance of sport for the sustainable development of cities and the wellbeing of their residents.
The collaboration builds on the reforms of the IOC's Olympic Agenda 2020 and Olympic Agenda 2020+5, which focus on strengthening the role of sport for sustainable development. It also builds on the recognition in 2015 by the United Nations 2030 International Development Agenda of sport as an enabler for achieving the Sustainable Development Goals (SDGs) and the New Urban Agenda.
It will strengthen the IOC's Olympism365 strategy, which uses sport to promote sustainable development, by engaging with UN-Habitat's extensive networks of city leaders and officials.
It will also support UN-Habitat's SDG Cities Initiative, a signature programme enabling cities to accelerate efforts towards achieving the SDGs and enhance the quality of life for urban residents. By offering support in the form of data, evidence-based planning, capacity-building, project financing and certification, the SDG Cities Initiative aspires to impact one billion lives across 1,000 cities by 2030.
"From our longstanding experience of putting sport at the service of society, we know that we have to bring the benefits of sport to where the people are – this means in the cities and urban areas of our world," said IOC President Thomas Bach, speaking at the UN-Habitat – Local 2030 Coalition event. "We are honoured to sign a new partnership with UN-Habitat to support SDG 11, to make cities more resilient and sustainable."
"With our Olympism365 strategy, the IOC addresses several of the SDGs at the same time: health, social inclusion, education, gender equality and many more. We are building healthy communities in partnership with the World Health Organization. By encouraging people to lead active lives, we are fighting non-communicable diseases and are contributing greatly to physical and mental health. Beyond health, sport has great social significance. It is a glue that bonds communities together. We are promoting inclusion and integration through our work to support refugees. Together with the UNHCR, we are supporting displaced people across the globe through sport and through the creation of safe sports facilities – many of them directly in refugee camps."
He concluded his speech by saying: "An SDG city without sport is not a real SDG city."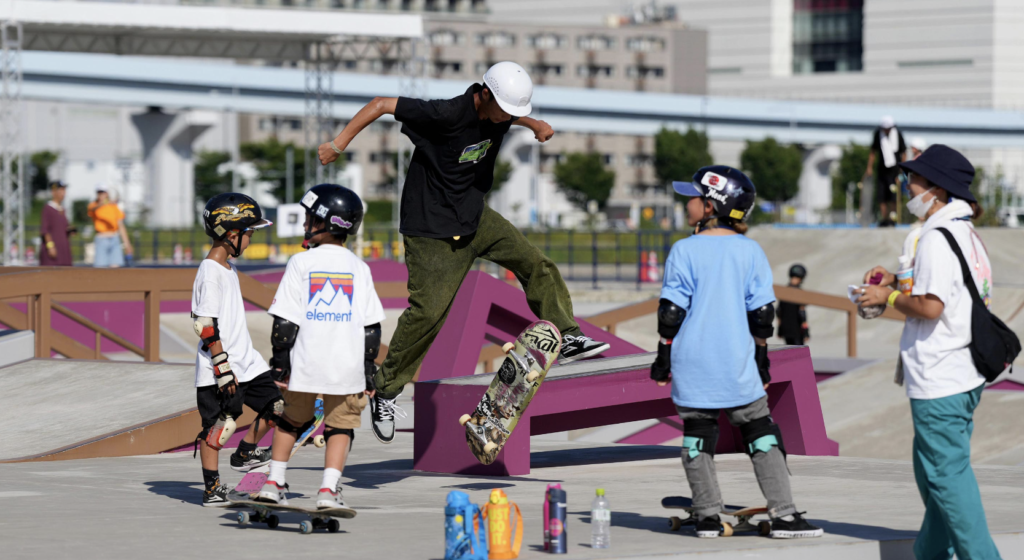 Almost 70 per cent of the world's population will be living in cities by 2050, up from around 55 per cent at present, according to UN estimates, making them a vital partner for any effort to promote sport and sustainable development.
"With just seven years left to get the SDGs done, we must shift gear from walking pace to a sprint," said, Maimunah Mohd Sharif, Executive Director of UN-Habitat. "The SDGs are for everyone and need everyone. All stakeholders must join the race. The collaboration will not only demonstrate the importance of sport as an accelerator of sustainable development in cities, but will also demonstrate how impact is accelerated when all of society engages."
The new collaboration links efforts to accelerate sustainable development and promote the quality of life in cities with initiatives to strengthen the role of sport as an enabler of sustainable development, especially through urban sports and in cities.
It is based on investments from both the IOC and UN-Habitat, and will begin with projects across several countries, focusing initially on four key workstreams:
Integrating Sport and Physical Activity into cities' analysis and planning tools, helping to create urban environments that encourage active lifestyles and access for more communities to the benefits of sport.
Capacity-building of municipal authorities, National Olympic Committees (NOCs) and sporting bodies, sharing knowledge on the role of sport and physical activity in sustainable development in cities and urban environments.
Investment in urban sports infrastructure refurbishment and programming with seed funding and finance, promoting access to and inclusion in the benefits of sport in targeted communities.
Production of guidelines for the integration of sport into urban development policies and resource allocation, recognising the significant role of sport in fostering healthier and more vibrant cities.
Its implementation will begin in November 2023 in five cities, in Africa, Latin America and Asia Pacific, with an initial timeframe of three years.
The collaboration was announced at the SDG Acceleration – Localisation session, co-hosted by UN-Habitat and the UN Development Programme, which took place as part of the SDG Summit in New York. Featuring interventions by the heads of state of Ghana, Türkiye and Egypt, alongside ministers, mayors and other key urban development players, the session's aim was to mobilise global and national commitments towards supporting locally driven actions to accelerate progress on the SDGs.
Read More: https://olympics.com/ioc/news/ioc-and-un-habitat-team-up-to-promote-sport-for-urban-development