Limited-time All-Day tickets launched for local and international fight fans
Riyadh, Saudi Arabia – September 20, 2023 – With 30 days remaining on the countdown clock, the organizing committee the Riyadh 2023 World Combat Games has unveiled a special offer to celebrate Saudi Arabia's upcoming National Day. Fight fans who purchase their tickets between today and September 25will be able to attend the event with unlimited access to each day's competitions for just 93 Saudi Riyals.
Single day tickets will also be available, at just 15 Saudi Riyals. These single-day tickets will feature a host of benefits, including complimentary parking and unrestricted access to all five sports venues and accompanying fan zone entertainment. Free admission will be provided to children under 12, seniors over 65, persons of determination and their companions. Those attending the final day's contests will also be granted entry to the closing ceremony celebrations.
Tickets can be purchased through the official Riyadh 2023 World Combat Games ticketing website https://tickets.riyadh2023.com/ as well as onsite during the competition from designated kiosks at King Saud University.
The third edition of the World Combat Games has entered its final phase of preparations. The Organizing Committee is dedicated to delivering an exceptional experience for all attendees, ensuring that this global celebration of combat sports is accessible and enjoyable for everyone. The combat sports extravaganza is set to take place at King Saud University over 11 thrilling days of competition with athletes from around the world.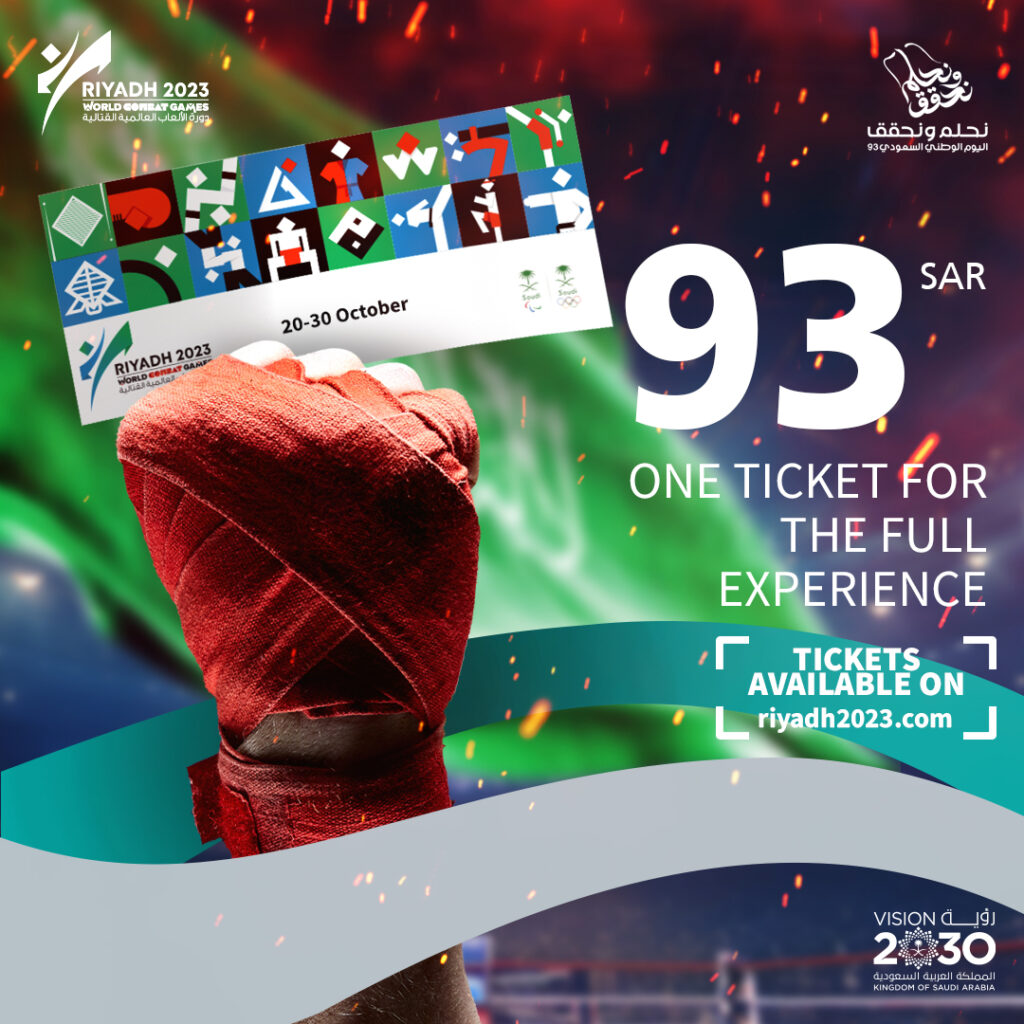 About Riyadh 2023 World Combat Games:
The Riyadh 2023 World Combat Games will take place from October 20-30, 2023, at the King Saud University. The competition will witness the participation of over 2,800 elite athletes and officials from 80+ countries. Each athletic discipline includes the following: Aikido, Armwrestling, Boxing, Fencing, Judo, Ju-jitsu, Karate, Kendo, Kickboxing, Muaythai, Sambo, Savate, Sumo, Taekwondo, Wrestling and Wushu. This year will mark the World Combat Games' inaugural appearance in the Middle East, with Riyadh proudly serving as the host city.
Stay tuned for more!