GRIESKIRCHEN. After a two year corona break the first international fistball matches took place on the opening day of the Sparkasse IFA Fistball World Championships 2021 in Grieskirchen. First, the women opened the tournament by competing against each other in the preliminary rounds. After two games Serbia and Germany fought their way to the top of their groups. However, the organisation committee was forced to put the games on hold for a short period of time due to extreme weather conditions. Luckily, it was still possible to carry out all scheduled games for the day. In the final game of the day fans were presented with a gripping game in a dramatical showdown between Austria and Germany.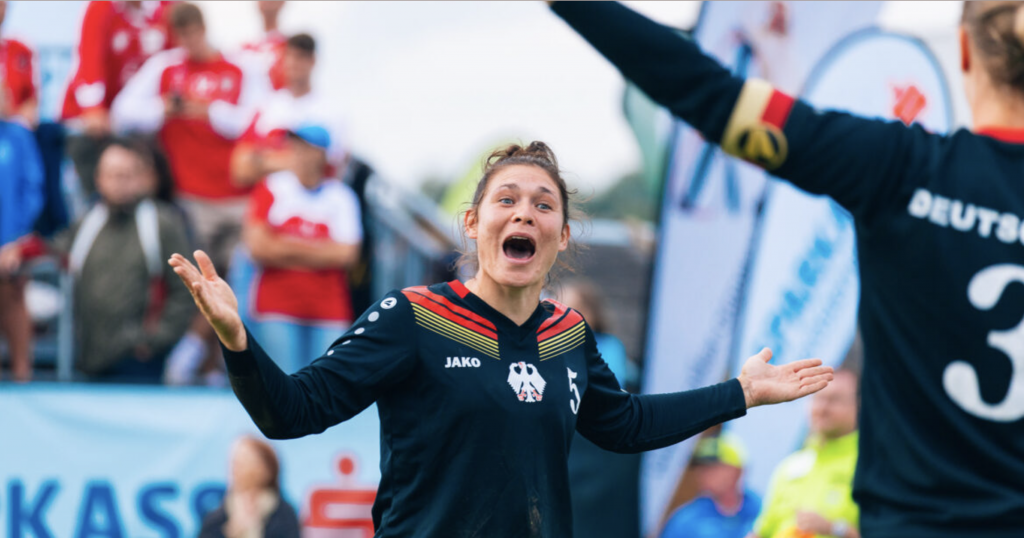 Defending champion Germany off to a good start
Germany beat Austria in a long and highly competitive last game of the day. Although it seemed like the Austrian team would win the encounter in the beginning, the defending champion soon put them in their place and ultimately won the match. Now Germany finds itself in an ideal position as they also won the game against Chile. Austria can chalk up a victory against Switzerland, who in turn won their match against Chile. The underdog of the group, Chile, could not win a set and ends their first tournament day with zero points.
Serbia exhibiting their power
At the European Championships in the Czech Republic in 2019 Serbia already showed off their talents and ended the tournament in the fourth place. The first step in the right direction was taken today by winning both matches against the Czech Republic and Denmark. This is only the second international tournament for Denmark after competing in 2019 as well. But they demonstrated their strength against Belgium and won their opening match. This leaves Belgium on the preliminary last place of the group, who did not win any games so far.
Looking forward
In the upcoming days fans will be able to follow the games of three different events simultaneously in the Grieskirchen arena: Women's World Championship, U18 Women's and Men's World Championship and U21 Men's European Championship. Spectators can expect an exciting fistball festival in the next few days. More than 1,500 people are expected at the venue on Saturday and Sunday when the final rounds are taking place.
Results: https://www.fistballwwc.com/wwc-results/
The AIMS family would like to wish the IFA family under the honorary presidency of IFA and AIMS council member Karl Weiss and IFA president Jörn Verleger and all the IFA athletes good luck for the competition.