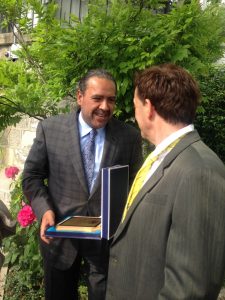 The 8th of June 2015 was a historic day for the Association of National Olympic Committees under the presidency of His Royal Highness Sheikh Ahmad Al-Fahad Al-Sabah, where AIMS President Mr. Stephan Fox, showed respect on behalf of the 23 international sporting federations of AIMS. It was a glorious day for the Olympic Movement, with the Honorary President of the IOC Mr. Jacques Rogge, who made a heartfelt welcome speech that was followed by the President of the IOC Dr. Thomas Bach.
Mr. Fox gave His Royal Highness, Sheikh Al-Sabah a plaque of appreciation on behalf of AIMS and His Royal Highness assured him of the support of the Olympic Movement towards the 23 AIMS sports.
His Royal Highness Sheikh Al-Sabah declared the new headquarter open, which was witnessed by 250 guests from the worldwide sporting family. The new headquarter is located at the heart of the Olympic capital, Lausanne, which had a beautiful setting with the weather on everyone's side for a beautiful afternoon of friendship.