The Team for Cordoba
After a week long training camp as preparation for the Men World Championship in Cordoba (Argentina) the Team coach Winfried Kronsteiner announced the 10 playsers to represent Austria in this year.
After the final tournament in June the squad was already reduced from 17 players to 14 players and now it was the point of nominate the final world championship squad. Unfortunately three players had to drop out because of injuries and so only the youngster Jakob Huemer had to bite the bullet and will be reserve player.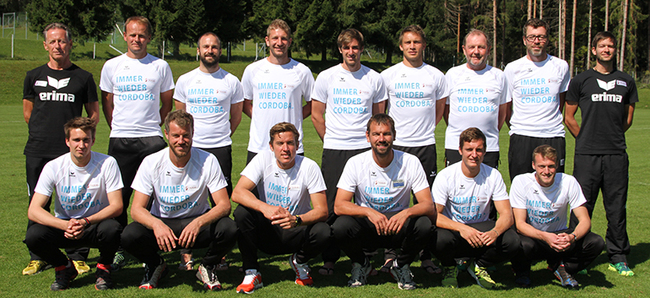 back from left to right: Gerhard Horvath (physical therapist), Thomas Letiner (co-trainer),  Harald Pühringer, Siegfried Simon, Bela Gschwandtner, Klaus Thaller, Fritz Weiharter (sports psychologist), Winfried Kronsteiner (coach), Philip Schretter (physical therapist)
front from left to right: Stefan Wohlfahrt, Klemens Kronsteiner, Jean Andrioli, Dietmar Weiß, Michael Feichtenschlager, Manuel Helmberger
See the whole article in german here.