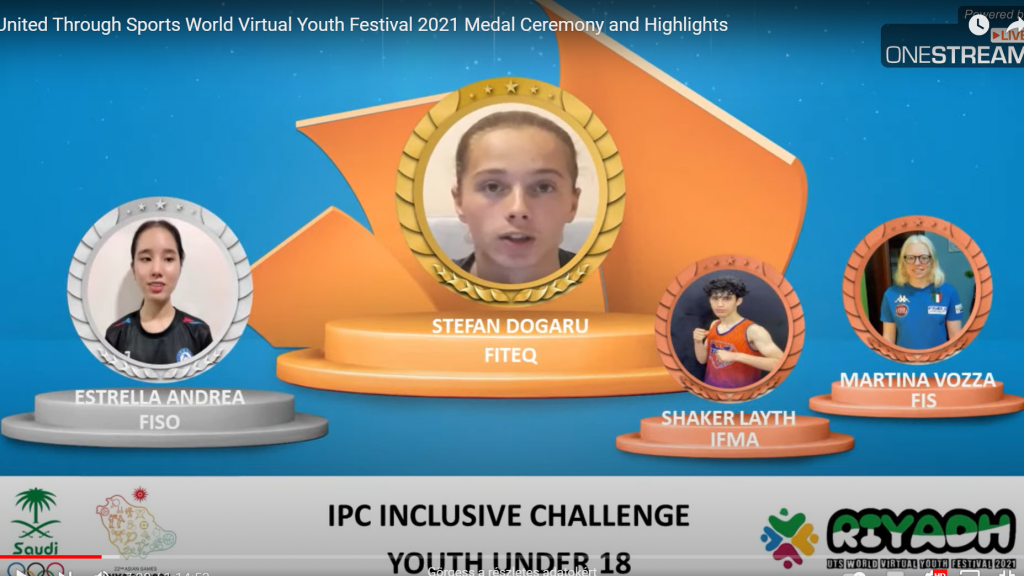 Rising para teqball star Stefan Dogaru won gold at the United Through Sports (UTS) World Virtual Youth Festival in the International Paralympic Committee (IPC) Inclusive Challenge event.
The Romanian para athlete was competing in the Youth Under 18 category at the virtual event, which was launched by the Alliance on Independent Recognized Members of Sport (AIMS) and organised this year by the National Olympic Committee of the Kingdom of Saudi Arabia. Reflecting on his success, Dogaru said:
"I think this event is a good opportunity for every young para athlete or child with a disability that wants to participate in sporting events. In the UTS World Virtual Youth Festival, you have the possibility to compete with others like you, which can motivate you a lot. I'm feeling great and proud of myself for taking first place and also for representing FITEQ. This achievement boosts my confidence and I'm looking forward for what the future holds."
FITEQ General Secretary and AIMS Council Member Marius Vizer Jr congratulated Dogaru, saying, "We are very impressed and proud of Stefan's achievement and we want to share our warm congratulations with him. Stefan's efforts demonstrate the opportunities with para teqball and his outstanding performance will help inspire more young people to try the world's newest parasport. We want to thank the Romanian Teqball Federation for their support of teqball and para teqball athletes like Stefan. I also want to share our gratitude to the UTS team, in particular President Stefan Fox, for giving young people around the world the chance to compete in an inclusive environment. The UTS World Virtual Youth Festival showed once again that is a great event and an excellent way to motivate young athletes to practice sport."
The UTS World Virtual Youth Festival is an innovation and celebration for the benefits of the youth of all abilities. The event, held under the patronage of the International Olympic Committee (IOC), the International Paralympic Committee (IPC), Special Olympics International (SOI), SportAccord/GAISF and AIMS, looks to promote inclusion, equality, non-discrimination and peace.
The 2021 edition was organised by the National Olympic Committee of the Kingdom of Saudi Arabia and the organising committee of Riyadh 2034 Asian Games. There were 126 organisations involved, including 68 International Federations, whilst over 50,000 young people competed in the sporting events, and over 200,000 individuals took part in the workshops and conferences.
The competitions included Max Fit, Aero Fit, IPC Inclusive Challenge, Unified Fitness and Talent. The event was officially opened by IOC President Thomas Bach, IPC President Andrew Parsons, SOI CEO Mary Davis, SportAccord/GAISF President Ivo Ferriani and the President of the Saudi National Olympic Committee HRH Prince Abdulaziz bin Turki Al Faisal Al Saud.
UTS President Stephan Fox added, "UTS is a unique bridge uniting the international sport community as a connection to bring organisations together. To empower youth so they can thrive on the playing field of life, promoting world peace through respect for one another, tolerance, harmony and where the youths' diversity is celebrated."
Read More: https://www.fiteq.org/news/-167