The FISav Athletes' Commission represents the voice of the Athlete in Savate and Canne de Combat.
Following the most recent elections, which took place at the Athletes' Assembly in Weiz, Austria, the Commission members are: Morgan Alexander (Great Britain), Narek Babadzanian (Russian Savate Federation), Aki Bhantooa (Mauritius), Ruben Batan Alvarez (Spain), Leonardo Carade (Mexico), Kristina Dzolic (Serbia), Ahlem Grisset (Tunisia), Nicole Holzmann (Germany), Olivier Lafleur (Mauritius), Amini Mahnaz (Iran), Leo Maillard (Switzerland) and Amine Ziani (Morocco).
You can join the Savate and Canne Athletes Forum on Facebook : https://www.facebook.com/groups/281214983793431
You can also contact the Athletes' Commission directly by email on fisav_athletes (at) googlegroups.com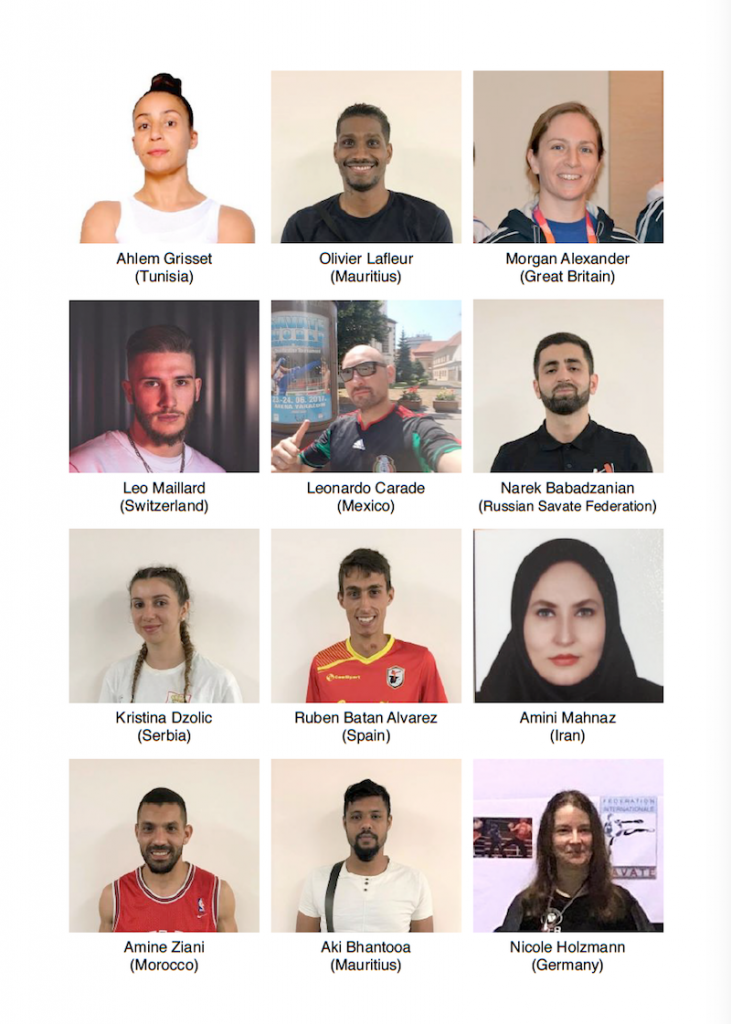 Further information about the new members of the athletes commission: Ruben Batan Alvarez (Spain) and  Amine Ziani (Morocco) are finalists in our 2021 World Savate Combat Championships. Kristina Dzolic (Serbia), Olivier LaFleur and Akilesh Bhantooa, both Mauritius, were all Bronze Medalists in the same championships. Amini Mahnaz (Iran) was a silver medalist in the 2019 World Savate Combat Championships.
History of the Athletes' Commission
At the 2014 FISav General Assembly, before the World Assaut Championships, a vote was held to begin an official athletes' commission. At those championships, the first four athletes were elected to represent all athletes in the new Commission. The four representatives chosen were: Morgan Alexander (Great Britain), Serena Burgio (Italy), Iles Pap (Serbia) and Niko Ryytty (Finland)
Four more athletes were elected to the Commission at the 2015 World Combat Championships. These were Marion Montanari (France), Sheryfa Cader (Mauritius), Hayatte Akodad (Morocco) and Rebecca Mandefu (Belgium). The Commission was completed by the appointment of Peter Nyilasy (Canne, Hungary) and Thomas Horstmeyer (Canne, Germany).
In 2018, at the World Assaut Championships in Bulgaria, Morgan Alexander (Great Britain) was re-elected, Narek Babadzanian (Russian Savate Federation), Leonardo Carade (Mexico), and Ahlem Guisset (Tunisia) were elected. Nicole Holtmann (Canne, Germany) replaced Peter Nyilasy in 2018.
At the World Combat Championships in 2021, Narek Babadzanian was re-elected,  Ruben Batan Alvarez (Spain), Kristina Dzolic (Serbia), and Olivier Lafleur (Mauritius) were elected by the Athletes Assembly.  Amini Mahnaz (Iran), Amine Ziani (Morocco) and Aki Bhantooa (Mauritius) were appointed to fill vacant positions.
Morgan Alexander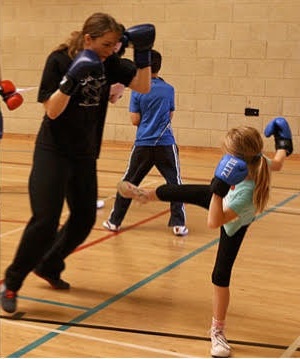 I am Morgan Alexander and I live in Cambridge, England. Previously a fencer I joined the Cambridge Academy of Martial Arts (CAMA) in 1999 after having trained with one of the founders since '97. It was with CAMA that I started to practice Canne de Combat just prior to the first World Championships in 2004. As the classes were on the same night my proper training in Savate also started that year entering my first international Assaut competition in 2006.
Since then I have been training in both Savate and Canne, taking part in competitions and training events to gain experience and, along with fellow instructors at the Academy, promote the sports and associated disciplines in the UK. Over the years my love for the sports has grown – the experiences and opportunities that they have given have been immense.
Within the Athlete's Commission I hope that my involvement will in some way help current and future athletes have a voice to further the sports within the International and National Federations.
Serena Burgio
My name is Serena Burgio, I am 29 and I come from Genova, Italy. I started playing Savate Boxing when I was 17 in a club in my neighbourhood. My friends, my brother used to play this "cool sport" while my cousin was an Italian champion and a good friend of us, Matteo, just pushed me to try to do some kick and punch! I was a young girl and I thought that doing some boxing were so cool for a girl!
Now I am 29 years old, thanks to Savate I travelled a lot and I keep doing it! I have been to China, Bulgaria, Spain… I reached the second place at the Combat World Championship in 2013.
Savate has been to me a great opportunity to believe in myself as a boxer, a student, a worker, a girl,  because it's true that if you work hard you achieve something good.  I would like that, especially the international championships could have the same visibility of other combat sports to see how Savate is hard but beautiful and how Savate boxers are good. I also hope to see more girls joining Savate because there is nothing that a girl cannot achieve by doing and competing in Savate. I proposed myself in this Athletes commission because I hope to be able to do something good, and I want to say thank you to everybody that during the world's championship put her or his face by giving me a vote!
Iles Papp
My name is Iles Papp. I started practicing savate in 2010. Savate is a great sport, and requires a large amount of discipline, which is why I like it.
I wanted to be in this commission to help the athletes by helping organisers understand what competitors need during competitions and to tell them what can be improved in order for the competitors to have a smooth flowing competition without complications so that they can concentrate on the upcoming fights.
Niko Ryytty
Hi! I'm Niko Ryytty, savateur from Helsinki, Finland. I've been competing in Finnish team since 2012. I'm glad to be elected to the Athlete's commission. If you spot me in competition or on street, please feel free to come to say hi! Looking forward to hearing from you!
Marion Montanari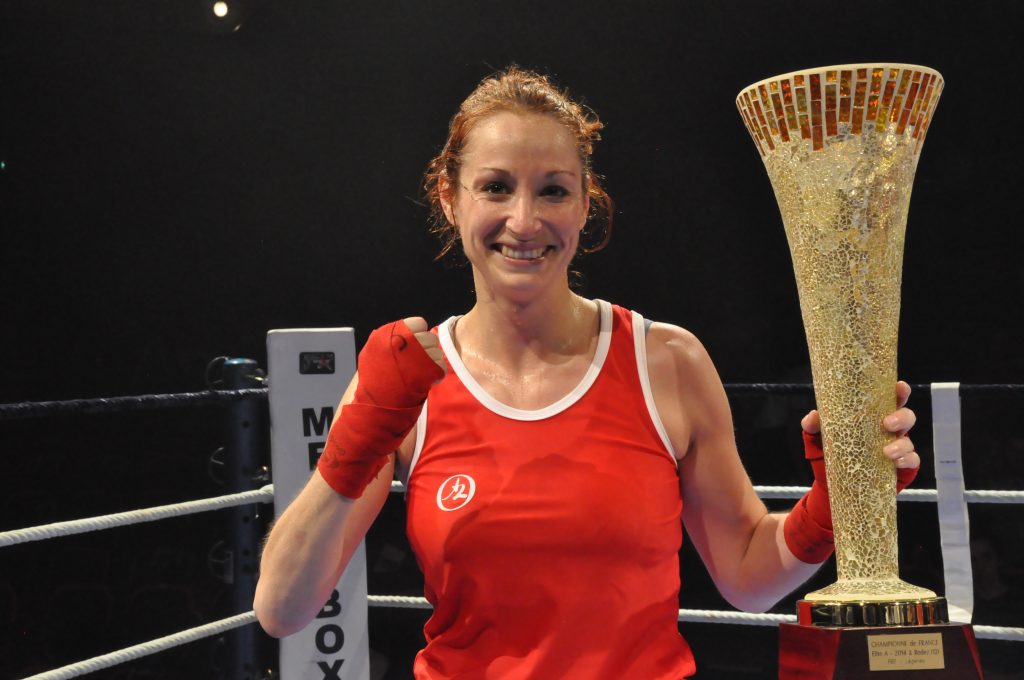 My name is Marion Montanari, I'm 30 and I'm a primary school teacher.
I've been practising boxing for more than 10 years, I'm 4 times French Champion, once World Champion (and one more to come I hope) and twice European Champion.
Rebecca Mandefu
In my category -52kg, I hold the title of Champion of Belgium assault-technique 2007-2014 (7X champion, in 2011 I did not participate), vice-champion of Belgium Combat Series champion in 2013 and 2 Combat S2 Belgium in 2014. Bronze medalist at the European Championship technical Assault 2009 in Spain, in Italy in 2011 and in 2013 in Bulgaria.
I have practiced boxing for 9 years now and I am part of the Belgian national team-French Savate Boxing (FFBS) for 5 years. I started relatively late, around 21 years. But nevertheless, the practice of dance and the gym during my childhood allowed me to gain flexibility and tempo (important for footwork and timing). So, I could adapt myself pretty easily and advance fast enough.
What are the passions in my life? I love my job, I am a consultant in finance (audit / accounting) for 6 years. I carry out missions of 2 to 6 months in different companies, which is very varied and pushes me every time to perform new challenges and learn new things.
 I also love the thrill (the bungee jumping and climbing), altitude and overcoming fears, are very exciting things. And then there are the trips. I already did a lot of countries in Europe, but I was able to discover other worlds, such as Hong Kong, Shanghai, Beijing, India, Senegal. And through boxing, we have also moved to Russia, Japan. I love travelling because it is every time a very rewarding experience and I love the confrontation with the unknown.
Source:http://fisavate.org/index.php/en/informations/savate-news/141-meet-the-athletes-commission-2021