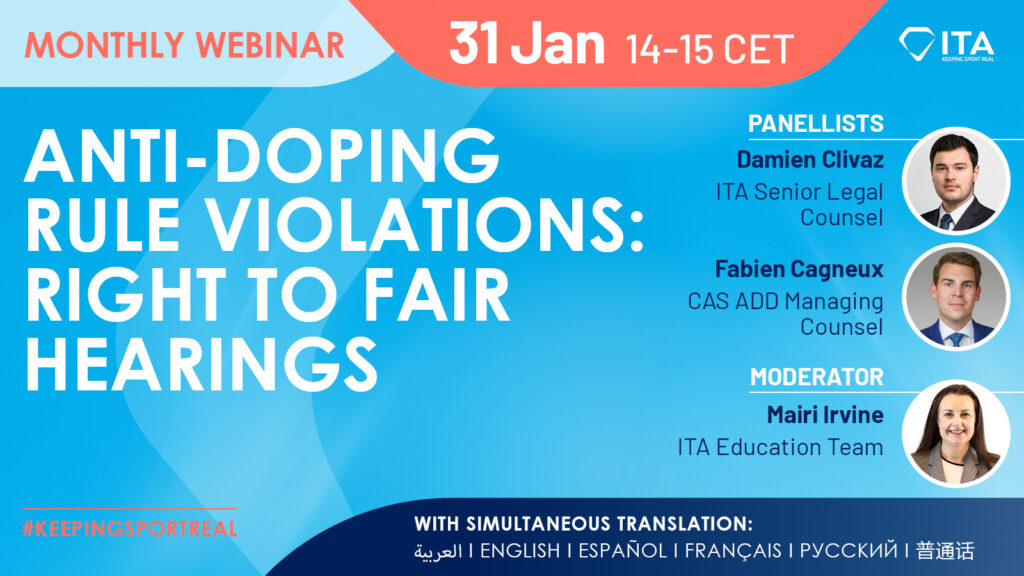 This month ITA takes a legal look at anti-doping by examining hearing panels, with a particular focus on the Anti-Doping and Appeal divisions of the Court of Arbitration for Sport (CAS).
The aim of the session is to explain what happens, and what to expect during the hearing process, such as:
What is CAS and the CAS Anti-Doping Division?
What is the decision-making process?
Who testifies, and what evidence is presented?
How and by whom are the parties represented?
Who is the judge or arbitrator?
What is the appeal process?
There are also a number of steps that take place before a case is heard by a hearing panel, and where resolution can be reached. We also take the time to address this, putting the review by hearing panels into the wider results management context.
ITA is delighted to be joined by two expert panelists, Damien Clivaz, Senior Legal Counsel for the ITA, and Fabien Cagneux, Managing Counsel of the CAS Anti-Doping Division of the Court of Arbitration for Sport. They will take us through all of this and de-mystify the process by presenting the most important, and practical information you need to know.
ITA will leave time at the end of the session to answer your questions live.
These webinars will be delivered in English with simultaneous translation to four additional languages – Arabic (العربي), Spanish (español), French (français) and Russian (русский).
Topic: Anti-doping rule violations: right to fair hearings
Registration link: https://us06web.zoom.us/webinar/register/WN_BfRNwk7YSJSKo67ikrcU3A
Event date: Tuesday 31 January, 14:00 – 15:00 CET
Panelists:
Damien Clivaz, ITA Senior Legal Counsel
Fabien Cagneux, CAS Managing Counsel
Moderator: Mairi Irvine, ITA Education Team