On the International Day of Peace, Aram Mahmoud, who represented the IOC Refugee Olympic Team in badminton at the Olympic Games Tokyo 2020, shares how sport has been a unifying tool for him and his fellow refugee athletes.
While the Olympic Games Tokyo 2020 are now behind us, the legacy of the Games will continue to impact the lives of athletes, entourage members and spectators alike for years to come. One of those who will never forget the summer of 2021 is 24-year-old Aram Mahmoud.
Aram started playing badminton at the age of seven, before fleeing his home country of Syria in 2015 as a teenager in search of a better life. Eventually, he found refuge in the Netherlands, where he now resides permanently. This summer in Japan, Aram became the first athlete to represent the IOC Refugee Olympic Team in badminton, and now he looks back proudly at what he and his fellow team members achieved at the Games.
Alongside his sporting endeavours and goal of reaching the Olympic Games Paris 2024, Aram is studying economics and sports marketing at the Johan Cruyff Academy, with one eye on his future beyond actively competing in sport.
On the International Day of Peace, Aram spoke to olympics.com about his journey to Tokyo and how sport's unique power to unify people has given him the opportunity to follow his Olympic dream.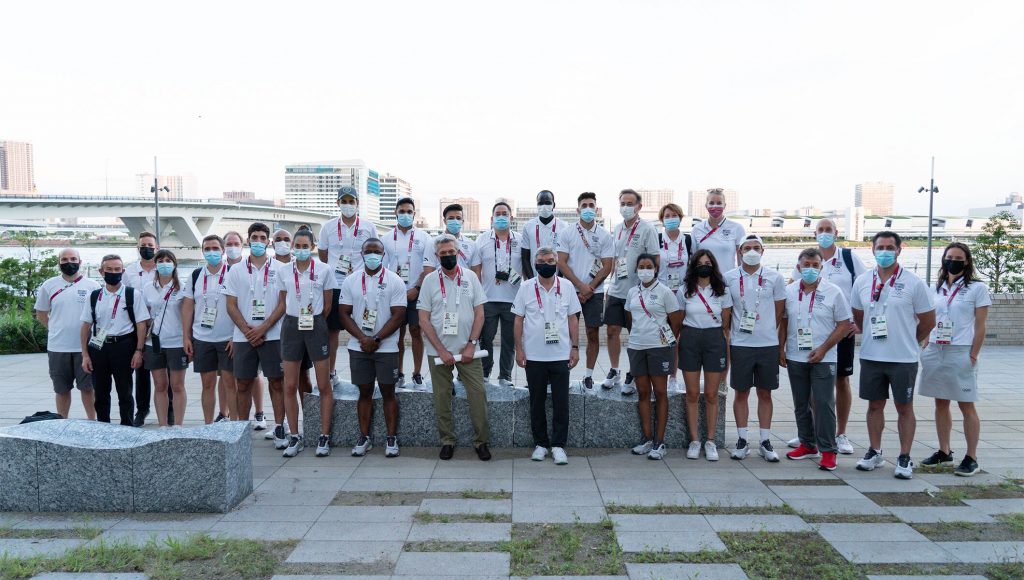 What emotions did you feel during the Tokyo 2020 Opening Ceremony?
"It's something I will never forget. I was in the Olympic Stadium and hearing the song ["Imagine" by John Lennon] was very nice because I really felt that we were one. All in one place, and we all supported each other, no matter where we came from. We all had the same goal, and everyone was so happy to be a part of this Olympics."
What are your first memories of the Olympic Games?
"Of course, as a young player, the Olympic Games are always on your mind. The first one I watched was Beijing 2008, and I remember the men's badminton final was between two of the biggest stars. From there, I hoped that one day I could make it to the Olympics; it was a dream for me.
"I remember when the IOC President announced my participation and I was selected to go to Tokyo, and it was one of the best moments of my life because my dream was coming true."
How do sport and the Olympic Games contribute to a more peaceful world?
"When we are competing in sport, it is like we are in a battle sometimes, and we have to fight hard to win. But the most important part is at the end, when we are at peace and give respect to each other and we shake hands. Everyone wants to win, but everyone is also happy to be there together and participate in the Olympics.
"It's such a nice feeling to give everything we have during the match, and then afterwards to have fun together, to return to the same Olympic Village and eat together, for example."
What symbolic message does the IOC Refugee Olympic Team send to the world?
"It sends a positive message. I remember when I saw the IOC Refugee Olympic Team at Rio 2016, and people were supporting the idea because not only is it athletes from their own country who participate in the Olympic Games, but also refugees who have been through many difficult situations in their lives.
"During Tokyo, I received a lot of kind messages from people I had never met, supporting me, cheering me on, even if I was playing against someone from their own country! Our message is peace in the world, and we all wanted to try our best to show that refugees have skills and abilities, too."
How do you reflect on Tokyo 2020 now?
"It feels amazing now because it is something that will stay with me my entire life that no one can take away.
"And it's not just for me: my sister also plays badminton and my father is a coach. The time they spent with me [in Syria] practising and playing didn't come to nothing, so I'm happy that I was able to represent my family at the Olympic Games and also the refugees around the world."
How has badminton helped you overcome challenges you have faced on your journey?
"Because of the sad situation in Syria, I had no choice but to leave. It's been a long journey with a lot of ups and downs, but now my life is more comfortable: I am able to study and play badminton. When I first came to the Netherlands, badminton helped me a lot to integrate with others and learn the language.
"When I arrived, people saw that I was a good player and had some potential, so they were very happy to welcome me into their culture. I am very thankful to all the people that helped me on my journey, and there are still a lot of people helping me now, too."
Source: https://olympics.com/ioc/news/aram-mahmoud-we-all-supported-each-other-no-matter-where-we-came-from