The cooperation between the 4 umbrella groups in the Olympic Movement is of utmost importance and AIMS is proud of it's cooperation with ARISF.
ARISF and WADA held their highly successful annual Anti-Doping Coaching/Training Session this year, where AIMS was in full attendance, sharing expertise, experience and views, also showing solidarity in the AIMS member's aspirations for clean sport. ARISF President, Mr Raffaele Chiulli stated that the workshop "is a great occasion to share something that really works with everyone else. "
The AIMS conference was honoured to have Mr Chiulli speak at its conference in the Olympic Capital of Lausanne. Mr Chiulli stated that the cooperation of all the members of the sporting family, regardless of being recognised or not is vital for the overall development and growth of the sport, commenting that the cooperation of ARISF and AIMS is excellent in sharing learning and experiences.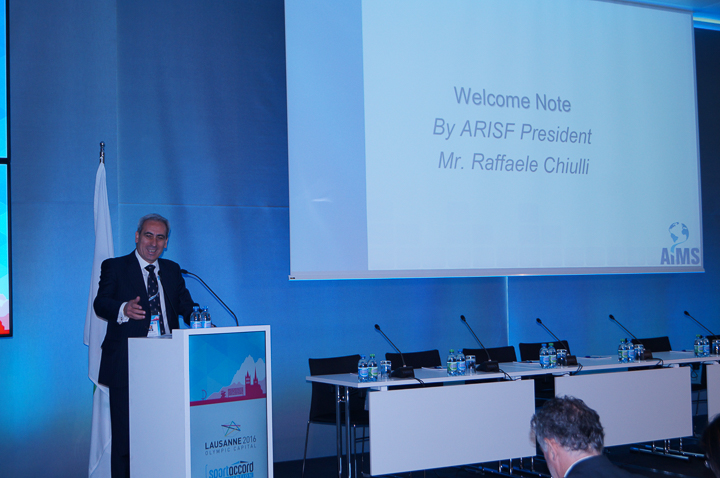 Mr Chiulli expressed support for AIMS in opening the conversation and opportunity to do the IOC workshops where IFs were allowed to ask questions to the IOC directly. He congratulated AIMS for being recognised by the IOC and welcomes AIMS as the 4th umbrella group. He states that ARISF was honoured to receive the mandate to process the IOC application and that work will be done together on it, in a proper and transparent way. ARISF is happy to welcome all the AIMS federations one day as they eventually join ARISF upon individual recognition and that no energy or effort will be spared in sharing experience and opportunity in the overall interest of sport and the sport family.
AIMS is grateful for the friendship and cooperation it shares with ARISF and continues to work together in good governance, transparency and for the greater good in the world of sport.