Riyadh, Saudi Arabia – As the Riyadh 2023 World Combat Games approach the midway point of their 11 days of competition, World Combat Games Chair Stephan Fox says the multisport event is not only well on its way to leaving a lasting legacy for the Kingdom of Saudi Arabia, it is also playing a part in conveying the country's new vision to the world.
From 20-30 October, the World Combat Games are proudly showcasing over 1,500 elite athletes from 120+ countries and 16 martial arts and combat sports: Aikido, Armwrestling, Boxing, Fencing, Judo, Ju-Jitsu, Karate, Kendo, Kickboxing, Muaythai, SAMBO, Savate, Sumo, Taekwondo, Wrestling and Wushu.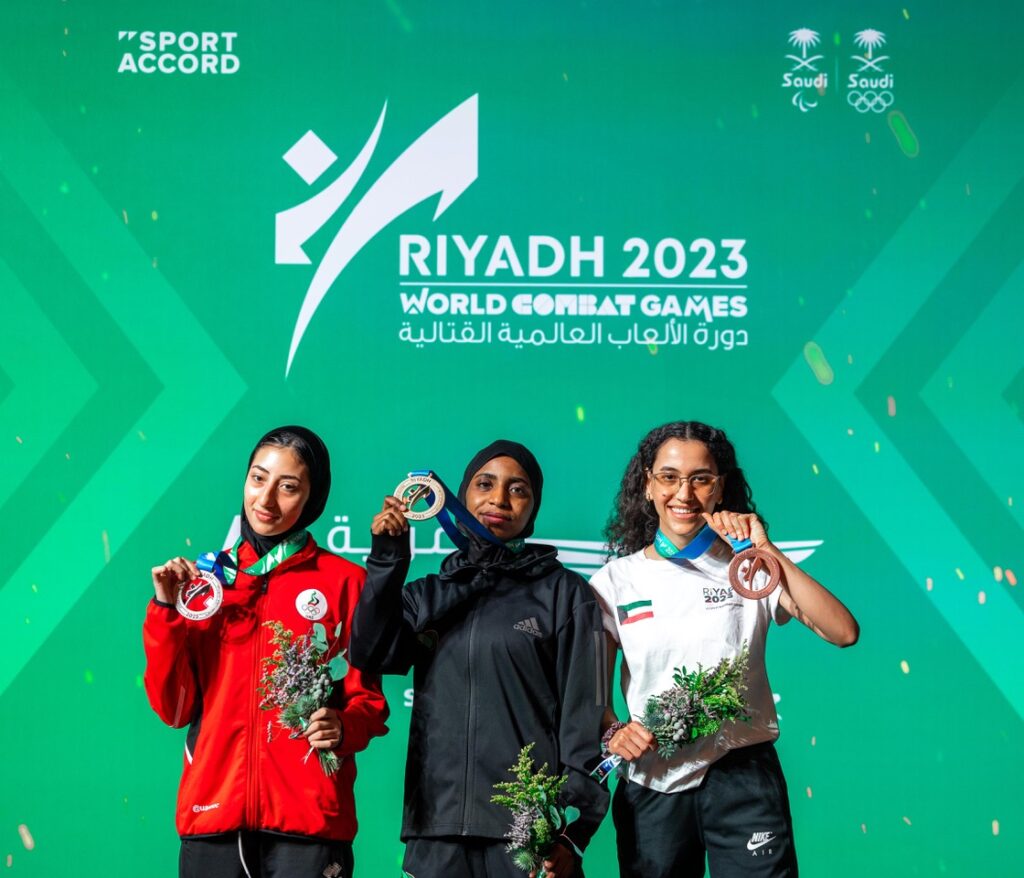 Not (yet) known as a combat sports powerhouse, Team Saudi Arabia has nevertheless performed exceptionally well so far at these Games, claiming an impressive 27 medals (3 gold, 11 silver, 13 bronze) – the most of any country and 7th in terms of gold medals won.

It's an accomplishment that Fox says boils down to Saudi athletes taking the opportunity that Riyadh 2023 has presented and running with it.
"Obviously Saudi Arabia is not on the level of major martial arts nations yet, but they've done really well so far because they trained very hard knowing they will compete here against the best in the world," he says. "This is the perfect time to dream about ending up on the podium and at the same time a wake-up call: If you want to be in the Olympic Games and you want to win an Olympic medal, you need to catch up as quickly as you can.

"So that's the legacy and that's the principle of Riyadh 2023: Inspiring the next generation of champions."
Hosting major sporting events such as the World Combat Games is part of Saudi Arabia's Vision 2030, a government-led reform initiative aimed at producing a "vibrant society, thriving economy, and ambitious nation." The Saudi Arabian Football Federation (SAFF) recently announced its intention to host the FIFA World Cup 2034, while rumours are also circulating about a possible push for the Olympic Games as early as 2036. Riyadh is also set to host the 40-sport, 12,000-athlete Asian Games in 2034.
The World Combat Games can therefore be seen as an important springboard toward these megaprojects. Riyadh 2023 is the first major international multisport event ever held in the Kingdom and is being jointly organized by the local organizing committee, the Saudi Olympic and Paralympic Committee, and the Saudi Ministry of Sport.
The Saudi medal haul would not have been as impressive without Vision 2030, which has also prioritized women's empowerment and youth engagement. Of the 27 medals won by Saudi athletes so far, for example, six have come from women.
"I have been involved in sport in Saudi Arabia now for a couple of years and I have been here when Saudi declared the Vision 2030 by His Royal Highness the Crown Prince," Fox says. "This is not just an empty vision in sport. You can really see how equality has come through and you can see here as one example the event in Boxing – the Saudi female boxers won three medals. Years ago, this would have been unthinkable."
Change and innovation are woven into the fabric of these World Combat Games. One novel idea was to hold the competition for all 16 sports under one roof – in five separate halls within the King Saud University Arena. This highly sustainable concept has worked exceptionally well so far, allowing athletes, spectators, and workers to move quickly and efficiently between the sports.
Another Riyadh 2023 invention with the potential to be adopted by future event hosts was to place para athletes and their able-bodied compatriots together on the same national teams. In a powerful display of unity and inclusion, results from all the athletes are being reflected in a single, unified medals table. Para athletes are competing here in six combat sports: Para Aikido, Para Armwrestling, Para Ju-Jitsu, Para Muaythai, Para SAMBO, and Para Savate.
"This idea has been working amazingly well," Fox says. "I'm certain that multisport games organisers in the future will copy some of the Saudi principles introduced at Riyadh 2023, such as those of total inclusion and venue sustainability. I think there are many, many lessons to be learnt from this event for other event organizers."
Fox takes the issue of legacy at the World Combat Games seriously. Every morning this week, he has visited local schools with Saudi athletes competing at Riyadh 2023 to introduce children to martial arts while encouraging them to give them a try.
At a recent visit, Fox and his team spoke to upwards of 600 kids about the Olympic values of excellence, friendship, and respect before demonstrating some basic techniques.

"The kids had so much fun and we will be doing these grassroots outreach programmes for five straight days so we can reach about 5,000 of them," he says. "Saudi Arabia is hosting the Asian Games in 2034, so these children are the champions of 2034. We want to reach them now and inspire them to hopefully start doing Judo, Taekwondo, or another martial art."
They need look no further for inspiration than 21-year-old Saudi judoka Ghadah Alateik, who competed at Riyadh 2023 and says she also became infatuated with martial arts while at school.
"I saw a sign advertising judo and I immediately fell in love with it," she says. "I started doing it with my whole heart. Then I got noticed by my coach and eventually became a national team athlete."
Her dream now is to become an Olympian. Maybe an Olympian at a home Games?
"Yes, and I am sure I will be part of it, too!"