The Saudi Games 2022 opened in spectacular style in Riyadh.
The King Fahad National stadium was the venue for the opening ceremony which saw over 6000 athletes from all regions of the kingdom of Saudi Arabia marching into the stadium.
2022 sports facilities in Riyadh will host the 45 sports and the 5 sports dedicated to the Paralympics.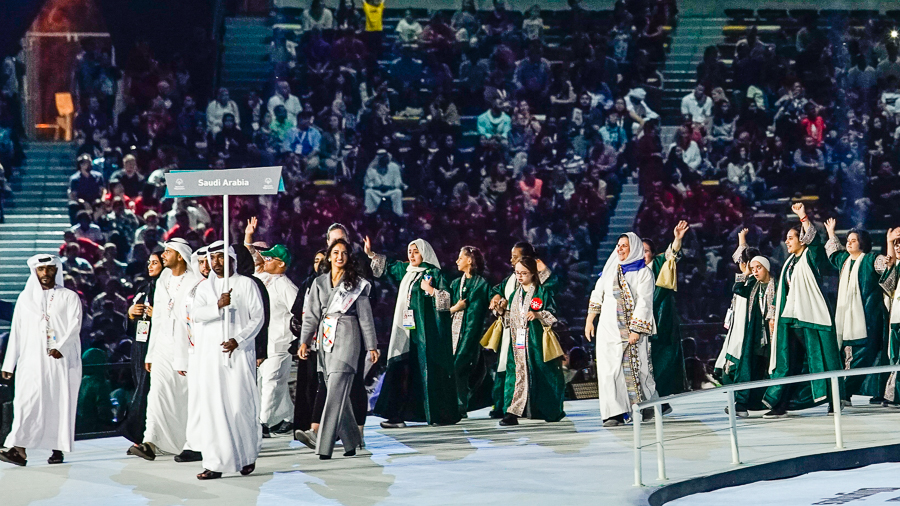 His Royal Highness Prince Abdulaziz bin Turki Al Faisal Al Saud, President of the National Olympic Committee and Sports Ministry made an emotional opening speech addressing the athletes, showing his pride on this important day.
The opening ceremony included a torch rally through all the 13 provinces of the Kingdom of Saudi Arabia. The colourful opening ceremony included dancers which choreographed the different sports in the programme and the torch was carried by many high profile Saudi athletes.
There were many AIMS members and observers present at this spectacular opening ceremony.
The AIMS family congratulated the Kingdom of Saudi Arabia and came in a large delegation in support. The delegation included the AIMS President, Mr. Stephan Fox and both Vice presidents, 1st Vice President Mr. Panagiotis Theodoropulod, 2nd Vice President Dr. Julie Gabriel and council member Mr. Michal Buchel.